Sparkling New Gear for Sparkle
---
It's been a busy few weeks here, firstly we took delivery of our very smart new little box made by Alexander's – it's fab and the horses seem to love traveling in it! The box had its first run out to Weston Park where Sparkle was entered in his first Advanced. As we arrived the trade stands were being blown away…not a great start to the day. However, we were glad there was no mud! Sparkle managed a good test, the changes were under control and the flower pots didn't distract him too much despite the flowers being blown over the arena! The XC was a really nice course, they had changed the lay out and it seemed to flow more. I had quite a wait until my SJ as I was one of the last to go and as I started to tack up the heavens opened. I didn't think much of it as the ground had been good and went to warm up. After a few jumps he felt fab and I was ready to go in, he was flying over the jumps and actually making it feel easy until we turned to the treble and he slipped and lost his back end! The rain had made the ground like an ice rink and in hind-site I should have put bigger studs in. I took the decision to retire him as he isn't the most confident in the SJ and thought I would save him for Belton the week after.
During the week I went hacking with Bob, Clare was on Sparkle, and we were having a lovely ride in the sun until Bob lost his back end on some slippery Tarmac and fell down on top of me! Bob was fine but I took the brunt of the fall with my ribs hitting the hard road. However, I arrived home to a lovely delivery form Dengie of new saddle cloths and a coat – so it wasn't all bad that day! The next day I was entered for Belton but went despite being sore from the fall and on painkillers. The dressage wasn't good, poor Sparkle probably thought I had lost the plot as I couldn't really sit to his trot as it was so painful. It took about 10 minutes for me to build up to getting off him after the dressage and I wasn't sure if I was up to jumping but I thought I may as well warm up and see what it was like. He warmed up so well that I couldn't not jump and actually not having to sit in the saddle helped. He jumped beautifully and was so unlucky to catch a pole in the uphill combination. The XC was twisty and had lots of combinations but luckily he doesn't pull so I knew he would be fine to look after me! He jumped a fab clear despite me just sitting there and hoping he would turn – what a clever pony! To top it off we got to use the fab new white Dengie saddle cloths so Sparkle really did sparkle all day!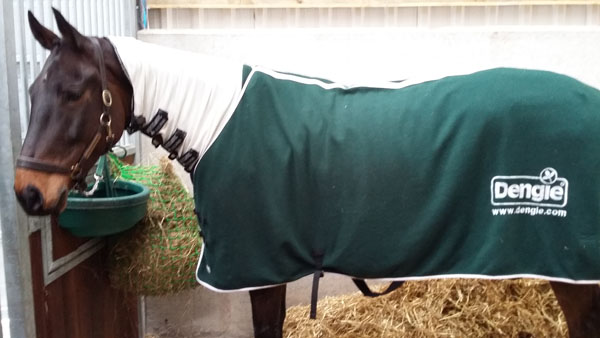 Bob was out at Northallerton doing to Advanced dressage tests on Wednesday. He was a little tense but behaved; again I had to not let him be too powerful in the trot work as my ribs still hurt, but we finally got the timing for the 4-time tempi changes correct – yey!
Next week I'm at a unaffiliated ODE with Molly, who will be very shocked that she has to do three  different jobs in one day! I'll let you know how she gets on!
I hope everyone is enjoying the sunshine and all of your horses are looking fab on their Dengie diets.