Summer fun with the ponies
---
Where has the summer gone? It has flown by and now I'm back at school! It was a great summer though and I have had a good time with all the ponies.
Felix has been feeling fantastic. Last time I blogged we had done our first 3 British Eventing events, we then had a short break from eventing to concentrate on dressage as we were selected for our Pony Club Area Novice Dressage Team. Last year our team just missed out on qualifying for the Pony Club Championships so we were really hoping we might qualify this year. Unfortunately it wasn't to be, Felix did a nice dressage test, but it wasn't his best and we finished outside the top 10. I was a bit disappointed as it would have been amazing to go to the Pony Club Championships.
The following weekend we went to Chepstow for another BE80 competition. It was an amazing day! I rode Felix a bit differently for the dressage. The weekend before at the Area dressage I didn't really put any pressure on him, I just let him do a nice, safe test. When I was warming up at Chepstow Mum told me to ask a bit more of him rather than just accepting his nice, relaxed way of going. Felix responded well and went into show-off mode which the judge obviously liked as we did a really good test to score 26.3! We then showjumped clear and stormed round the XC to finish on our dressage score and win the section!! It was amazing, I never thought I would win a BE event in our first season!
Our next event after Chepstow was the Pony Cluc Area Eventing which was held at Nunney. Felix did another good dressage test, but we then had a 5 hour wait before we showjumped because the air ambulance had to land for someone who had fallen in the show-jumping. Thankfully the rider was okay and the competition was able to carry on, but it was quite hard to get going again after such a long wait. Felix show-jumped well, but did have one pole down which isn't like him. We then went XC, it was a tough course and I was quite nervous but Felix flew round to go clear, which meant we finished 4th and qualified for the Pony Club Regional Championships!!
We did one more event before the Regional Champs which was at Oxstalls. It was a lovely event. Felix was quite cheeky in his dressage test, he even had a little buck in one of the canter transitions and jogged in the free walk so he didn't achieve his usual sub-30 score! We then showjumped clear and we had a great ride around the XC inside the time to finish 4th which means we have qualified for the Horse Events Unaffiliated Championships!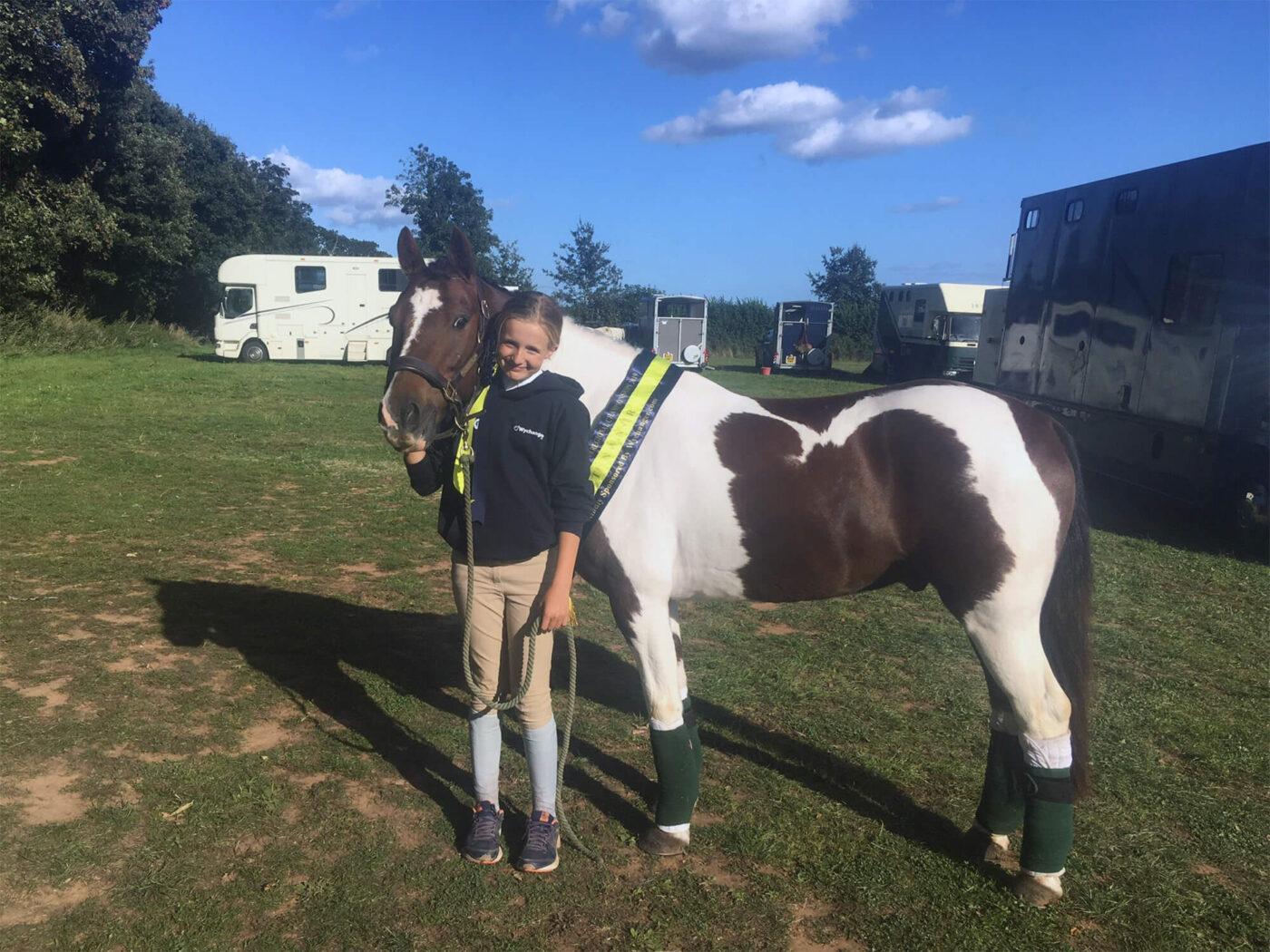 Pony Club Regional Championships at Bicton was our next event. As Felix had been a bit cheeky in the dressage at Oxstalls we had a couple of lessons with my dressage instructor before the championships to remind Felix how to behave in the dressage arena. It worked! He did a fab test to score 27.1, the only sub-30 score in the section! The showjumping was big and caused plenty of problems, but Felix was great and jumped clear. I was in the lead going into the XC and this made me really nervous! It was a big and quite technical course with lots of combination fences and because it was a Championship it was quite a bit longer than other courses we had done. But I need not have worried as Felix flew round which meant we won!! I was so excited, I have wanted to win a sash for ages and we did it!! Felix is just amazing!!
After the Pony Club Championships Felix had a week off as I went to Burghley Horse Trials. It was great to watch the competition and to meet fellow Dengie brand ambassador Lucy Jackson. After a couple more events Felix will be having a longer well deserved holiday out in a big field with his friends!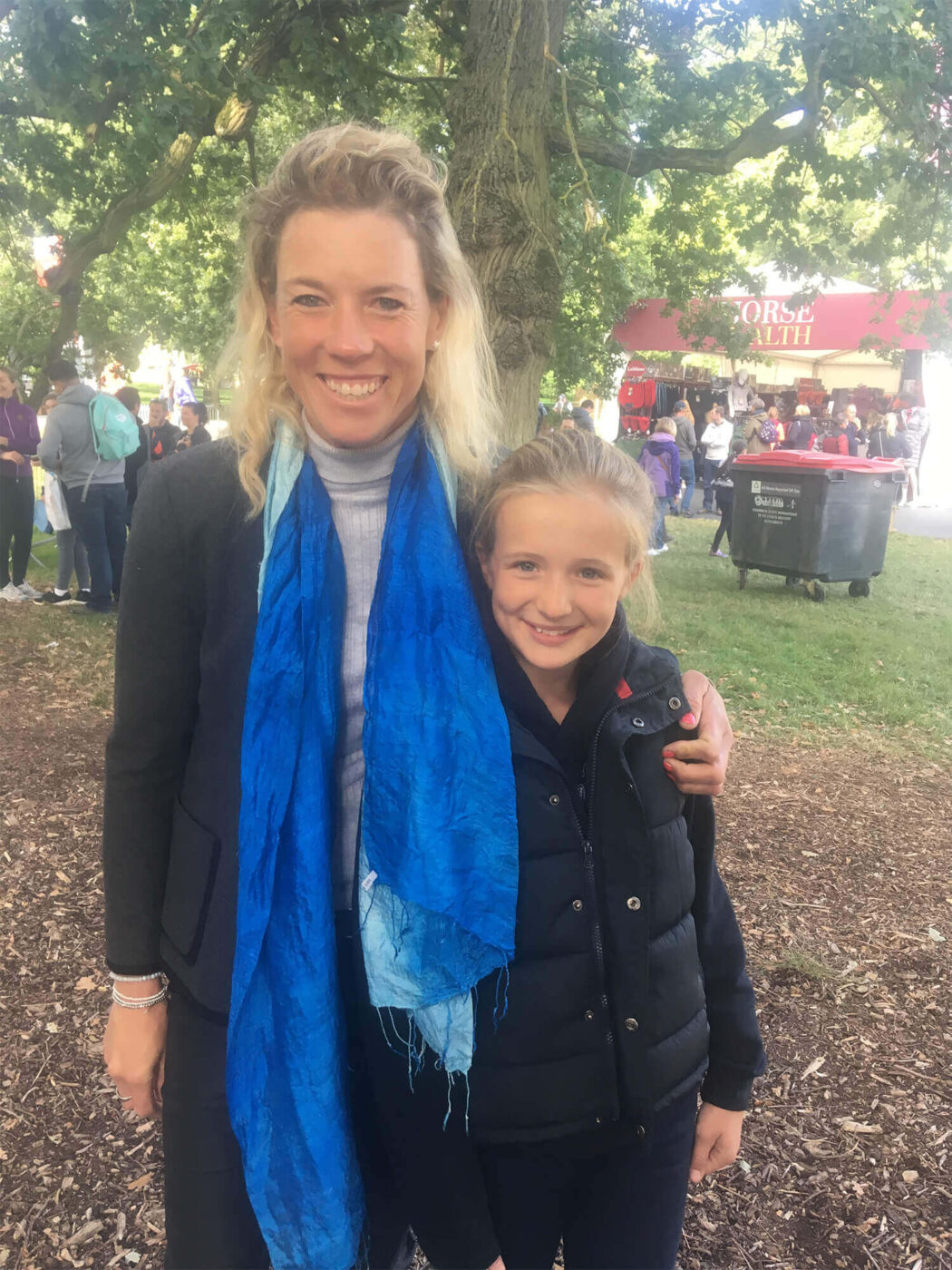 As I have been so busy with Felix it has been quite hard to fit in much competing with the other ponies, but we have managed to do some. Chico has been doing some dressage and we had managed to qualify for a Pet Plan Area Festival which was exciting. At the Festival Chico behaved very well and did a nice test, but I made a few mistakes which lost us marks. We still managed a score of 66% though which means we will be going to the Area Festival U21's Final at the beginning of October which I am quite excited about!
Smartie was the lucky one to go to Pony Club Camp this summer and he loved it! He was so good and coped really well with staying away from home, something I was a bit worried about as he can get a bit stressed and anxious about change. It was a really fun week and I felt like Smartie and I came on a lot together.
After camp Smartie and I did a dressage competition, we did a walk and trot test which he was a bit tense in, but then we did a Prelim test and he was much better. We are now getting ready to do our first little one day event, so watch this space!
Another exciting thing to happen this summer was our broodmare Annie had a lovely colt foal and I watched it all! The evening before he was born Mum thought that Annie was behaving like she might foal that night so she said she would wake me up if she did. I didn't actually go to sleep as I was waiting for Mum to come in and tell me it was happening! It was so exciting and amazing to see a foal being born, I couldn't believe how big he was! We have called him Nemo and he is quite a cheeky character! He is already trying to take his Mum's food so obviously likes the Dengie Diet!! I can't wait to see him grow up and ride him in the future.
Well, that's all for now. Next time I blog the eventing season will be over and it will probably be cold and wet but at least Christmas will be coming!