Training Bursary Blog: Sarah-Jane Brown Part 2
---
A month after our fantastic training day with Dengie I hoped I would be blogging to tell you how we had kicked on with training and were eagerly anticipating the season ahead. With storm Ciara and storm Dennis causing disruption eventing seems a long way off!
Surviving becomes the main aim and keeping the girls ticking over so they are at least fit enough to kick on when the weather changes. The lack of a school really does hit hard when the weather is like this and I can only dream of the luxury of one with a roof on.
To be fair we haven't had a total disaster the girls have been ridden 4 or 5 times a week, plenty of hill work and different terrain, huge amount of water and bog practice and thankfully they are looking and feeling fantastic. Ellie's change of diet to reduce the calories has been an easy transition, but I have to say she is still looking rather too well.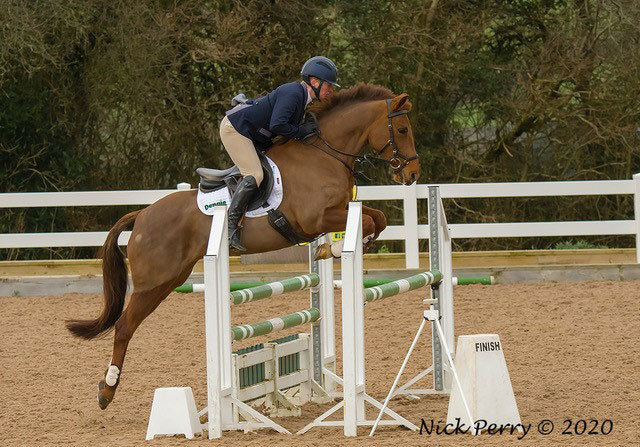 We did get out last weekend to Chard Equestrian a fabulous facility in Somerset for some BS jumping. It was supposed to be a 3-day show, but the third day was lost to the weather. Both girls jumped some brilliant rounds and it gave us an opportunity to try some different bits. I was delighted to come 4th in a strong Newcomers class with Fliss on the second day after just missing out on a placing in the 1.05.
We were also able to put into practice the great training from Hannah Esberger-Hancock with a dressage competition. I was delighted to come away with 2 wins and a second place, although as is often the case, the stunning work Ellie showed outside was not replicated in the arena when she was looking a few excuses to add the odd freestyle element. She doesn't get that flying changes aren't needed at Elementary.
Fingers crossed for the weather to remember dry days and our eventing season will start at Cirencester in March, we then hope to go to Portman, Bicton and Withington which should be a great introduction to the season with a variety of courses to get into the swing of things.