Zoo animal nutrition: Providing the right diet in zoos
---
Simply read through the article and answer the following questions to be in with a chance of winning £30 of Dengie Feed Vouchers*
Zoos play a key role in conservation and education. Animal welfare is of the utmost importance and providing the right diet for the wide range of different species they care for is key to the success of breeding programmes as well as the health and wellbeing of the animals. Just as horses are herbivores and so require a high fibre diet, so are many zoo animals and finding the right sources of fibre is vital. Understanding zoo animal diets depends on a number of things which we cover in the article below.
Animals in their natural habitat
In their natural environment, browsers such as antelopes and giraffes generally wouldn't have a problem finding suitable high fibre materials. In Africa, they would usually feed on acacia and other browse material which are very nutritious with appropriate fibre levels. Acacia has spines which animals have to use their long tongues to negate; this is believed to be so they can't strip leaves, preventing complete defoliation of the plant. Browsers such as Okapi are able to select desirable items of browse material by reaching up into the canopy with their tongue which can extend to around 18 inches!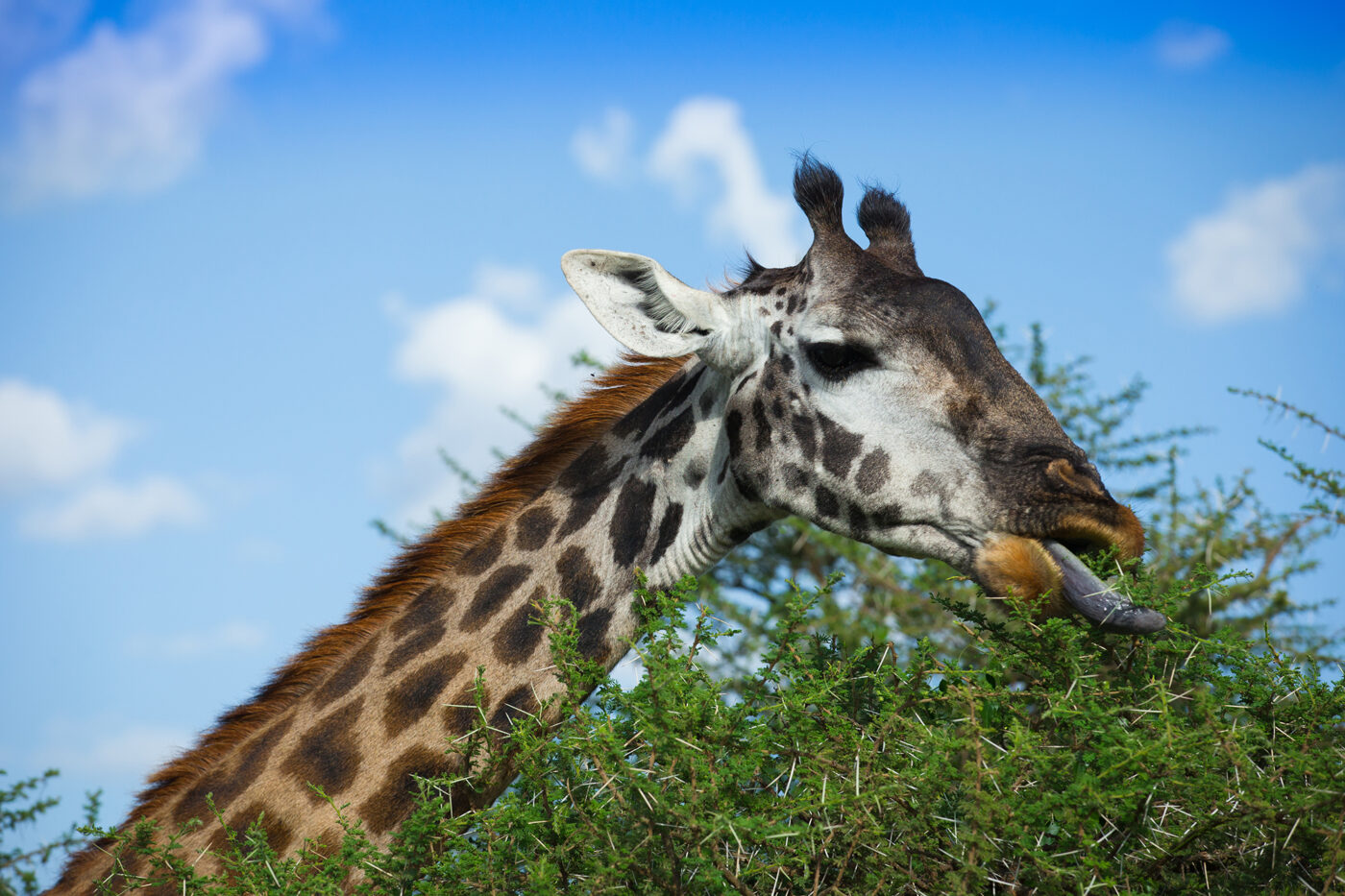 History of feeding zoo animals
Historically, most zoo animal nutrition for browsers was based on what suited giraffes as they have been relatively common in zoos. This led to many other species being fed inappropriately, often being given too much grass-based forage as this was most readily available, but even holly was picked and conserved for zoo animals in the 17th and 18th centuries. Inevitably, like horses and other farm animals, zoo animals have also been fed cereal based feeds designed for intensive livestock production. Just as with horses and other livestock, high cereal diets can cause significant issues in the digestive system, such as acidosis due to rapid rumen fermentation in zoo animals too. Inappropriate nutrition also resulted in poor dentition and acute mortality syndrome in some zoo animals as well.
Over the last decade in particular, there has been a concerted effort to grow sources of browse material for zoo animals. It can be difficult to source browse material in larger quantities, so some zoos now have their own plantations using plants such as willow which is quick growing, to provide sufficient material for the animals. Alongside this, alfalfa has made a significant improvement to zoo animal diets and is easy and efficient for zoo keepers to use.
Feeding alfalfa to zoo animals
Alfalfa has a very different botanical classification and cell structure to grass, but has a protein and nutrient content similar to acacia which makes it very suitable for feeding to a wide range of zoo animals. As ever, the closer to the natural diet the better for the animal and the lower risk of problems.
Alfalfa provides more quality protein compared to grass as well as being a more digestible fibre source. Grass hay has a high silica content which is an abrasive material that wears down teeth. Feeding too much grass hay to browsers such as giraffes, whose teeth have a low crown and thin layer of enamel, can result in excessive dental wear due to the silica content. Alfalfa has a naturally low silica content so is much less abrasive to teeth compared to grass.
Andy Beer is a nutritionist specialising in zoo animals and is a strong believer in feeding alfalfa. Andy previously ran training schemes both in the UK and internationally for zoo keepers. Having taught nutrition at University level for more than 20 years, he became a zoo nutritionist for 11 years at the Royal Zoological Society of Scotland with their two animal collections at Edinburgh Zoo and the Highland Wildlife Park. Andy now works freelance giving nutritional training and advice to a number of different zoos in the UK, Europe and the Middle East.
"Alfalfa is the best alternative to natural browse" says Andy. "It is highly beneficial to a number of different species due to its structure, composition, fermentation characteristics and low silica content. I also value its high calcium and magnesium content compared to grass. Adequate and appropriate nutrition is not something that should happen by coincidence but should be properly planned for zoo animals and using high quality feeds is vital for their welfare".
Andy uses a variety of formats of alfalfa including hay or haylage, as well as chopped and pelleted alfalfa such as Dengie Alfalfa Pellets or feeds in the Dengie Alfa-A range. Andy has also been training our team of nutritionists and feed advisers to ensure we are best placed to provide support and advice for zoos too. "Although there are some key principles that apply to horses and zoo animals, the scales of what these animals can consume is amazing" commented Tracey Hammond a senior nutritionist at Dengie. "An elephant may consume over 100kgs a day which is about 50 times more than a very large horse should be eating!"
Feeding at Paradise Wildlife Park
Paradise Wildlife Park in Hertfordshire have been feeding Dengie Alfa-A Original to their various zoo animals for over 15 years. The animals fed on Dengie Alfa-A Original include Lowland Tapir, Plain Zebra, Bactrian Camels and Red Deer.
"At Paradise Wildlife Park we have used Dengie's Alfa-A Original for many years now across various species" explains James Cork, Head Keeper. "We mix the Alfa-A Original alongside their concentrate feeds and have found this to be a great product for increasing the animals' roughage. It's clear to see that all the animals enjoy their Alfa-A, particularly our Bactrian Camels who love grabbing mouthfuls out of their feed buckets before we have even placed the food in their troughs!"
The animals at Paradise Wildlife Park are fed hay and straw alongside their Alfa-A Original as well as a specialist browser pellet to provide them with the vitamins and minerals they need. They also eat a variety of different fruits and vegetables such as peppers, pumpkin and carrot. They have various forms of enrichment including treat balls, branches and forage at varying levels including hay racks and feed troughs.
If you have any questions or would like more information on zoo animal nutrition, don't hesitate to get in touch with our team today via the Dengie Feedline: 01621 841188.
Dengie also recently organised a webinar on Saving and Caring for Exotic Species with guest speakers Tullis Matson, founder of Nature's Safe and Andy Beer, zoo animal nutritionist of Zoocraft Limited. The recording of the webinar can be found on our YouTube Channel.
Test Your Nutritional Knowledge - Zoo Animal Nutrition
Simply answer the following questions to be in with a chance of winning £30 of Dengie Feed Vouchers*
*Terms & Conditions: This competition will close at 11.59pm on 31st December 2022. One entry per person. One lucky winner will be selected from the correct entries and be notified via email within 7 days of the competition closing. No cash alternative available. Entrants must be aged 18 or over. Open to UK mainland residents only. Click here for full terms & conditions