Behind the Scenes at the BD Youth Foundation Academy Camp
---
Dengie have been working with the British Dressage Youth Foundation Academy for four years now, visiting various camps around the country as well as giving online lectures during the Covid-19 pandemic. Post covid, the Dengie team were delighted to be attending in person again this year and wanted to share some of the fantastic opportunities these training camps offer to young and aspiring dressage riders.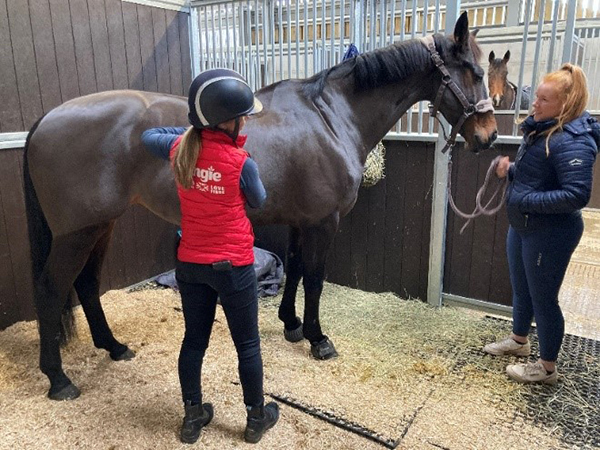 Foundation Academy riders are selected from B-A squad riders who are active in their region and are achieving scores of over 66% at Elementary and above. Riders receive coaching and performance development sessions both mounted and unmounted over two 2-day camps running through Autumn/ Winter. The aim of the Academy is to develop all-round equestrian athletes and so include sessions on rider fitness, ridden coaching, test riding and lecture demonstrations with industry professionals.
"I really enjoy watching the riders and their horses improve over the course of the camps" says Hannah James, Youth Development Officer at British Dressage. "It's lovely to follow their progress throughout the year and seeing them put the skills they have learnt at the camps into practice when out competing". Hannah coordinates the BD Youth activities including the Foundation and National Academies.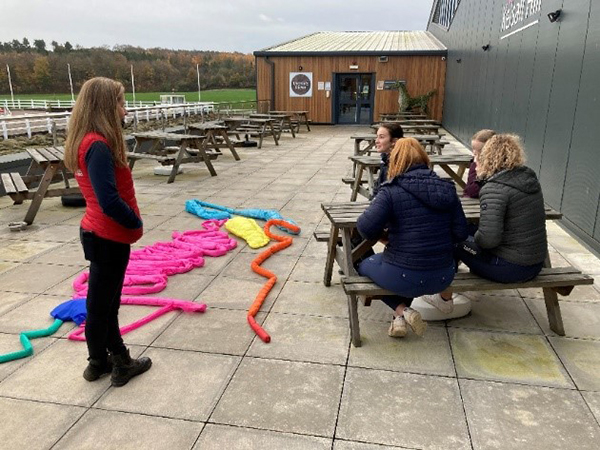 Performance Horse Nutritionist Claire Akers, MSc from Dengie Horse Feeds has been on hand at the Foundation Academy camps to offer nutrition advice to the riders as well as giving nutrition talks on a variety of different subjects including gastric ulcers and the digestive system using Dengie's life size model 'Harry the Gut'. "The difference between winning and losing can be so slim in the equine world" explains Claire. "Ensuring performance horses have the best nutrition possible to make sure they are as happy and healthy as they can be to compete and perform at the top can make all the difference in picking up those extra marks".
Molly Esberger-Shepherd is in her second year of the Foundation Academy and was also one of only twelve National Academy athletes selected for 2022. "I feel like I have learnt so much on the Foundation Academy camps and all the different elements we take part in have been so interesting" explains Molly. "I have really enjoyed my lessons with Hannah Moody, I could feel and see improvements in my riding and my pony Harry's way of going when comparing the videos from the first and second camps. I also found the Dengie nutrition talk really interesting, I couldn't believe how long the horse's small intestine is and I also found the case studies Claire talked about really thought-provoking with the before and after photos. I would definitely recommend the Foundation Academy camps; they are lots of fun, and I have learnt so much!"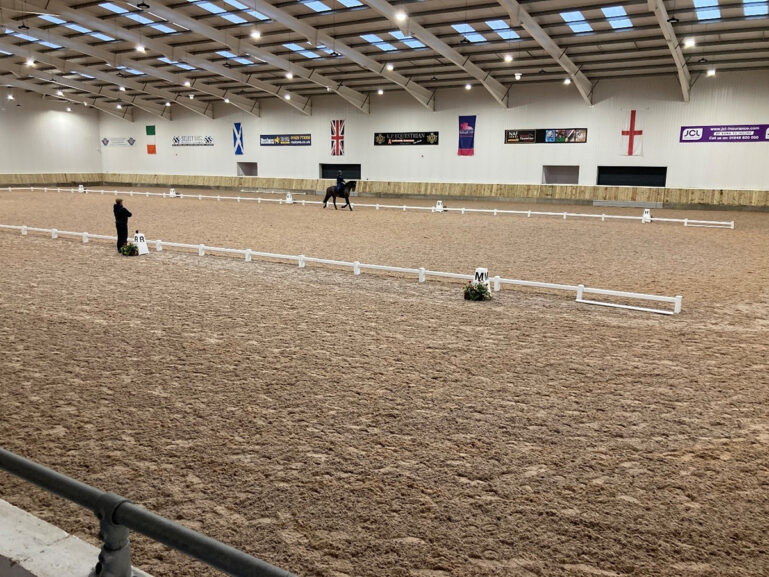 Veterinary student Amy Charlton is in her first year of the Foundation Academy. "I wasn't sure what to expect but it has been such a valuable experience and very different to the BD Youth Camps I have attended previously" says Amy. "As my own horse is injured, I have borrowed different horses for the two camps, so it has been interesting to pick up and learn different things. The camps are full on with lots to do and learn and although I am shattered at the end of the weekend, I love it and would absolutely recommend the experience! I have also found the non-ridden side of things interesting; the goal setting has been useful, and I found Claire's talk on gastric ulcers helpful as my own horse has recently been diagnosed with them. The nutrition talk was also fascinating from a vet student point of view, and I found 'Harry the Gut' really helps to visualise and understand the horse's digestive system".
The BD Youth Foundation academy is a fantastic pathway for budding young dressage riders helping them to develop their riding and skills. It is a great example of a range of different professionals in the equine industry coming together to help up and coming junior riders to achieve their best