Boosting Mineral Levels to Help Balance Low Calorie Forages
---
Levels of vitamins and minerals consumed naturally by dieting horses on restricted rations will be lower than those out on lush green pastures, meaning good doers on restricted rations can be lacking essential minerals. As an increasing number of horses and ponies in the UK are fed restricted rations, deficiencies are more probable. We have therefore increased levels of the trace minerals selenium, copper and zinc and introduced chelated forms for increased bioavailability, in our popular low calorie fibre feed Healthy Hooves Molasses Free.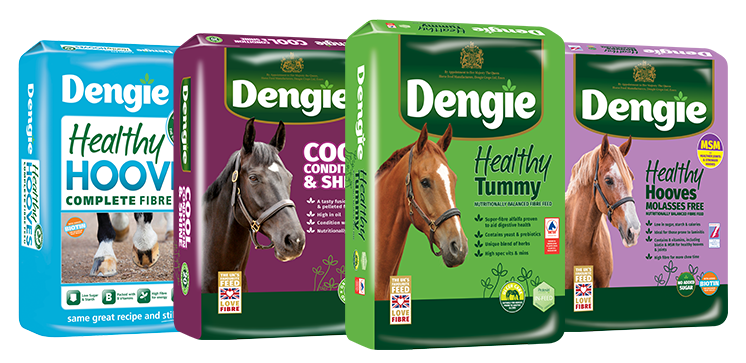 We have four nutritionally fortified feeds in our range, Healthy Tummy, Healthy Hooves, Healthy Hooves Molasses Free and Cool, Condition & Shine and all will feature the new levels of minerals. When fed at the recommended rate of 500g per 100kg bodyweight, these feeds will provide the horse with all the vitamins and minerals they need for a balanced diet, including the recommended amount of biotin for hoof growth and health. Dengie Healthy Hooves Molasses Free also contains Methyl Sulfonyl Methane (MSM) for additional hoof and joint support, whereas Dengie Healthy Tummy contains ADM Protexin In-Feed formula supplying digestive aids to promote optimum gut health.
For more information about Dengie's complete feeds or for help and advice on all aspects of feeding call the Dengie Feedline: 01621 841188 or complete our Feed Advice Form.