Preparation for the Petplan Area Festival by Libby Gill
---
In July we took a trip to Bicton for the Regionals where we came 10th in the Novice. Sherb had a bit of time off due to being lame so didn't have the preparation we hoped for. Not our day this time and no trip to the Nationals for us this year!
After the Regionals, me and Sherb went on boot camp! Well Sherb stayed at my friends for a month who has better facilities as I don't have a school at my yard. It was very useful to be able to school him a few times a week in preparation for the Petplan Area Festival. The hard work paid off and he went very well in the Elementary, but with a couple of costly mistakes from me we were through to the next round in September.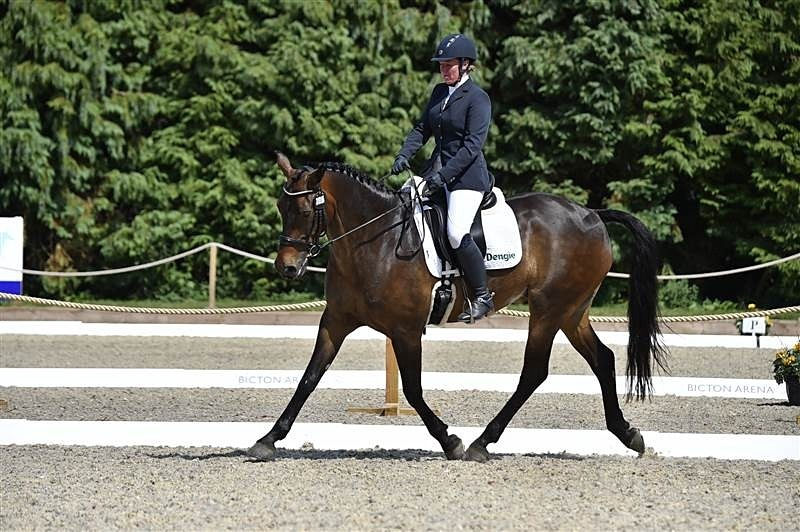 After Petplan we got to have a play on the cross country course to add a bit of variety and fun to his workload. Sherb really enjoyed the change but it did prove how unfit I am!
I am writing this final blog for Dengie from sunny Spain! Giving myself and Sherb a week off from a busy summer before prep for the Petplan Area Festival final begins and reflecting on the past year as a Dengie Ambassador. I have had a great year and met some amazing people.
My biggest highlight this year has been competing at Elementary and feeling quite confident with it. Neither Sherb or I had done any dressage until about 3 years ago and it is great learning it together and with a great supportive trainer, with the occasional butt kicking, you can achieve great things if you are prepared to work hard for it.
Sherb has thrived this year being on a fibre fuelled diet. He can be very sharp and spooky on cereal-based feeds, but his Dengie diet has given him enough energy and stamina for his workload without making him silly. His coat has an amazing shine to it and his dabbles are really standing out. He has a nutritional review soon to make sure all is going well and I will definitely be sticking to the Dengie diet.
My advice to this years Ambassadors would be to make the most of the opportunity, enjoy the experience and most of all have fun with your horses!