Tickled Pink in aid of Breast Cancer Awareness
---
Thanks to Bonnie Smith & the Dengie Team, Breast Cancer Awareness are to receive a whopping £738.56 donation raised from the activities and games, plus lots of eating over Dengie's two sites and two shifts!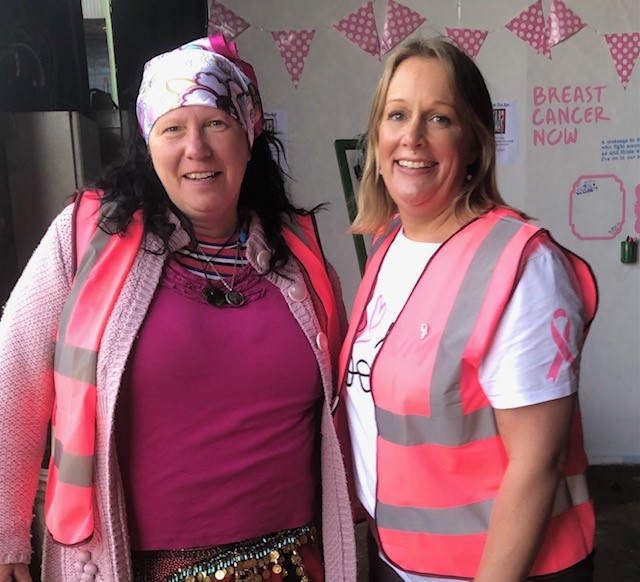 Bonnie started the proceedings with a cash sponsorship from her mum and JJ's Bar in Spain where her mum currently resides.  Then the cooking began – a rich beef chilli or chicken and mushroom hotpot with jacket potatoes or cheesy jackets for the vegetarians were on the menu.  Additionally there were hot dogs with or without onions that were so popular more had to be purchased! One particular member of staff was reported to have worked his way through 2 hot dogs, chilli & jacket and hotpot & jacket all in one day!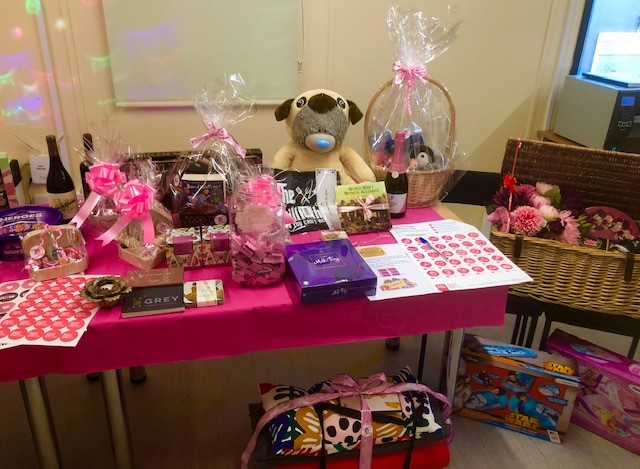 Thank yous are needed in abundance – Bonnie went to business after business in the local area for donations for the Tombola and we are extremely grateful to the following for coming up trumps with some fantastic prizes:
The star prize in our Tombola was provided by Sandra Mills from "Bev's Bucket".  Bev's Bucket came about when Bev, a Tesco Burnham worker, set up a bucket for loose change to raise money for charities in the store.  Sadly Bev died a few years ago and Sandra took it over in her honour.  Bev's favourite charity was supporting Breast Cancer and therefore we were generously given a big hamper.  Dengie Production Manager,  Glen Williams was the lucky winner and he is giving the hamper to his mum (minus the bottle of port!).
Sheena Vella (Operations Site Manager) came up with decorated booby cakes made by Newells Cakes And Bakes and delivered to the Dengie Nutrition office to help them join in from further afield!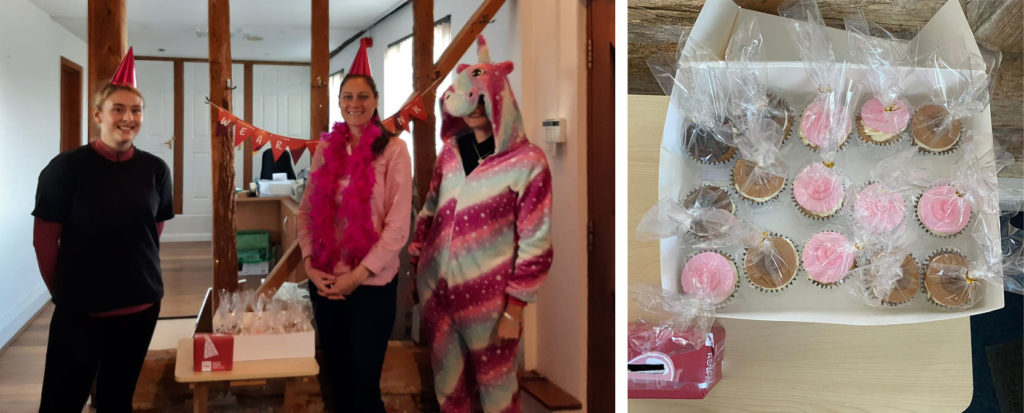 Catherine Wilson of Pelican Prints was first to respond to Bonnie's Facebook appeal for prizes with a variety of goodies from lovely wooden can openers to lunch boxes; Cathy Vale for Morrisons provided bags containing smellies; Helen Dawson of Grey & Co Soft Furnishings provided Tea Light Holder, Coasters, Salt & Pepper Dishes; Dawn Maria Rouse of Sewn Personally For You provided a Bear to be personalised (won by Wendy Sumner); Maldon Tescos provided Pink Bags with goodies; All the Dengie staff who provided bottles and goodies too.

Additional thanks to staff who helped make the days a great success – the Engineering Team building "Bat the Rat"; Shane Hasler for the graffiti, "Tin Can Alley"; Dave Vince & Mark Pearson for setting up areas for the games, "Ball in the Bucket" and "Play Your Cards Right"; Wendy Sumner for helping with portion control and serving in the tea room, Les Abbott's wife who made the most scrummy Lemon drizzle tray bakes and three whopping big cakes too.  By the end of the second day there was barely a morsel of food left.
We hope that Shane Hasler wasn't stopped on the way home with an enormous pink unicorn strapped to his back on his motorbike! Shane went all out buying ticket after ticket on the Tombola, determined that his unicorn mad daughter would be the winner.
This was the first of Dengie's Wellbeing Charity Fund-raisers, instigated by Bonnie Smith and the generosity of those that dug deep in their pockets to support this worthwhile cause and helped raise awareness was a wonderful team effort.