Preparing for the Eventing Season
---
Last time I blogged the ponies had just gone out on a 6 week break in the field and I was spending time getting to know Bracken, a 14.1 mare that I have been asked to event this year. The 3 boys came back into work at the beginning of December…..they were very hairy and extremely muddy, but pleased to get some attention and keen to get back into work. The first couple of weeks was spent just hacking round the lanes mainly walking and trotting, then at the start of my school Christmas holidays they were all clipped and the more serious event preparation work began!
Smartie really benefited from having some time off in the field, he came in looking and feeling much stronger and more confident. He has always been a bit of a worrier and he has a tendency to loose weight when he gets stressed so it was great to see that he had really filled out. We were keen not to lose any of the weight that he had gained whilst out on his break so he went straight back onto the Alfa-A Oil, balancer and Alfa-Beet plus as much hay as he could eat!! Felix has a tendency to go a bit overweight when he is not in work, but he actually didn't look too bad at all after the break so he went onto his 'in-work' diet of Alfa-A Molasses Free with a balancer mixed with a small amount of Alfa-Beet. Chico also looked in good condition after his break so he also went onto the same feed as Felix. Bracken has been on a fitness regime since she came to us as she had most of last year off out in a field but the weight has been coming off her and she is now on the same feed as Felix and looking really well. It was great to have a visit from Andrea, our Dengie Area Manager who came and weighed and condition scored the ponies not long after they came back into work. It's good to have an accurate measure of their weight and to know that we are feeding them the best diets.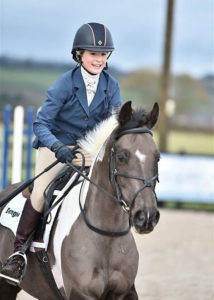 During the Christmas holidays I was able to start schooling the ponies. We went to some Pony Club rallies, and then at the start of the New Year I took Felix, Smartie and Bracken to a BE Arena Eventing competition at Bicton. It felt great to be back out competing! Felix and Smartie did the 80cm class and both flew round (a bit too fast – both got a few time penalties, oops!) and unfortunately both knocked the joker fence down. I then did my first 90cm class with Bracken, she felt amazing and we finished right on the optimum time but unfortunately had the joker fence down…..again!! Although we didn't come home with any rosettes all 3 ponies were looking and feeling really well and it made me very excited for the eventing season.
We have since been out to a few more dressage and show-jumping competitions. I have done my first dressage competition with Bracken and also jumped round my first 100cm Show-Jump course (we went clear and it was amazing except that i missed out a fence!!).
Keeping 4 ponies exercised during these winter months has been hard, my mum helps out by riding and leading the ponies from her horse and she also rides Bracken and Smartie if needs be. The ponies all get turned out for 4 or 5 hours everyday whilst I'm at school so it doesn't matter if they don't get ridden everyday, but we try to work them at least 4 days a week. Now the evenings are getting lighter though it is already so much easier! I did have lots planned for the ponies during half-term week but the awful wet and stormy weather meant that nearly everything was cancelled. Bracken and I did go to a Riding Club SJ competition where we finished 4th in the 90cm with 2 lovely clear rounds. We also did the 100cm class and jumped clear in the first round and just had one pole down in the second round where some of the fences were 1.05 and 1.10m! I'm so excited about this pony, she has wings!!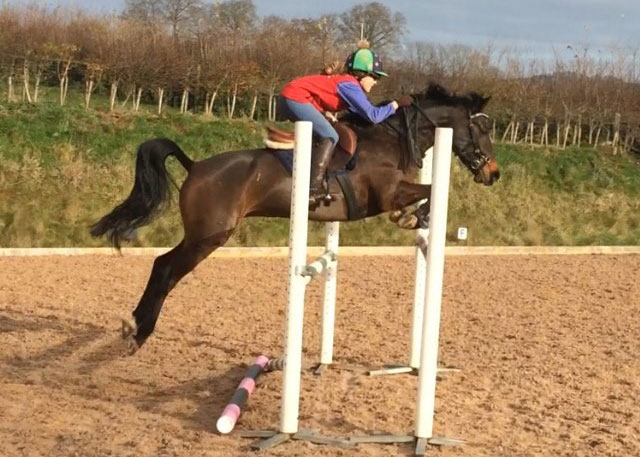 Chico is now looking for a new home as a dressage pony, we had hoped that after a break he might have changed his attitude to jumping but after a couple of good schooling outings he then went back to his old ways of napping between fences. He is obviously much happier just doing dressage so he will now be for sale as a dressage pony. Felix will soon also be off to a new home too, I have had the most amazing 4 years with him and he will always be the most special pony to me, but sadly I have now outgrown him so he is off to help another little rider start their eventing journey!
So, as I write this it is raining again and already some events due to happen this weekend have been cancelled. Hopefully, by the beginning of April when my Eventing season is due to start the weather will have improved dramatically and the next time I blog the event season will be in full swing!! I can't wait to get out of the start box with Bracken and Smartie!