Off the Track
---
Month 1
New Arrival – creating the right nutrition plan for your ex-racer
Traditional racehorse diets are high in starch and low in fibre which has an impact on the health and efficiency of the digestive tract. Gastric ulcers are a common problem in racehorses and can be a reason for horses not 'thriving' or putting on weight in their new home – they may also cause the horse to be picky and have a limited appetite. Don't be afraid to seek veterinary treatment if ulcers are suspected.
A racing-fit horse is likely to be quite lean compared to a normal riding horse and so one of the first things to check is your horse's bodyweight and body condition score. This is a starting point to establish whether the horse needs to maintain or gain weight and will therefore help determine what type of feed you need. If you need help with this watch our video below on how to condition score your horse.
To help promote digestive health and efficiency, keep the diet fibre based and start by feeding ad-lib forage. Ad-lib means as much as your horse can eat and so every time you walk past your horse's stable they should still have something available to eat. At this stage, it is a good idea to weigh the forage given and then also to weigh any forage that is left. This will ensure that your horse is actually eating enough. As a rough guide, a horse that is stabled 24/7 will eat between 2-2.5% of their bodyweight in dry matter every day – for a 500kg horse this is 10-12.5kg. If you are using haylage, it is important to remember that this forage contains more moisture than hay and so you need to feed more. For example, you would need to feed 16-21kg of a haylage with 60% dry matter.
With regards to bucket feed, at this stage keep it simple and get your horse settled on a nutritionally balanced ration. Try to keep the bucket feed fibre-based to encourage chewing and saliva production, which is a natural buffer to acidity in the digestive tract. Dengie Healthy Tummy is a nutritionally complete fibre feed that is specially formulated for promoting gut health. Made from pure alfalfa – a leguminous plant that is low in sugar and starch and proven to be a natural buffer against acidity – Healthy Tummy contains ADM Protexin In-Feed Formula, which supplies prebiotics and yeast to help encourage a healthy microbial population in the gut.
For horses that need to gain weight, select more digestible fibre sources such as sugar beet and alfalfa and feed with oil for extra calories. Dengie Alfa-Beet is a blend of unmolassed sugar beet pulp and alfalfa, making it ideal for improving condition without making your horse fizzy – Dengie Alfa-Beet contains only a quarter of the sugar found in conventional molassed sugar beet. If feeding a fibre only ration or less than recommended of a feed with added vitamins and minerals then top up with a broad-spectrum vitamin and mineral supplement.
Adding a digestive supplement to the ration to help promote efficient feed utilisation to get the most out of the feed supplied is very useful at this stage. Digestive supplements combining yeast to aid fibre digestion and a prebiotic to feed the beneficial gut bacteria help to support the digestive process. It can be fed daily at a maintenance level or as a concentrated dose during times of stress, such as while travelling or adjusting to a new environment.
Month 2
Learning the Basics – considering diet when you begin ridden work or when there's a change in workload.
When you are starting out on your new training program for your ex-racer, it is important not to assume that you need to change the feed every time you increase workload. Providing more energy than your horse actually needs is likely to result in over-exuberance, particularly if you are feeding a ration with a high cereal content. If your horse is continuing to maintain his weight, or gain weight if desired, once his workload increases then this suggests that you have got the ration right – just continue to monitor bodyweight, performance and workload longer term to see if any changes are needed.
At this stage, many owners will want to avoid over-exuberant behaviour and keep everything as calm as possible. It is not only the amount of energy supplied, but the type of energy which is important when it comes to over-exuberance.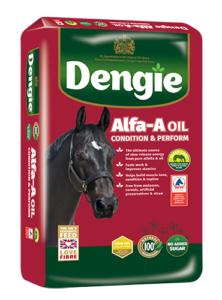 Recent research at Edinburgh University studied the effect of diet on behaviour. In the study horses were fed either a fibre- (alfalfa) based ration or one containing a cereal-based concentrate mix of the same energy level. The study found that horses fed the cereal-based concentrate mix were more reactive to new situations, were less consistent in their behaviour and had higher heart rates compared to those fed fibre. These results suggest that feeding fibre results in less reactivity, making horses easier to handle and ride.
If further weight gain is needed at this stage then using high oil feeds is another way of providing extra energy without the fizz, as oil is an additional source of slow-release energy. Dengie Alfa-A Oil is the ultimate fibre feed that combines alfalfa and rape seed oil, making it perfect for fuelling hard work or promoting condition. The high oil content has the added benefit of giving a healthy shine to your horse's coat.
Month 3
Developing topline on the lunge – feeding to build muscle and support increased work
Feeding for topline and condition is not only about feeding the right nutrients, but is also fundamentally related to the type of work or training done. For example, your ex-racer is likely to have received a high-energy, balanced ration when racing, but the muscular appearance is very different compared to that of a dressage horse due to the type of work that is done.
Ensuring sufficient energy and quality protein in the ration is vital. Energy is important, especially if the horse still needs to gain weight, as being of an ideal body condition gives a more rounded appearance compared to a lean horse. It is, however, important not to overdo things – a fat horse is not a fit horse and being overweight will not result in good topline! Protein is used by the body for muscle development and repair of damaged muscle, which is why working horses have a greater requirement. If you are using the recommended quantity of a commercial feed appropriate for your horse's bodyweight and workload then the manufacturers have already done the sums to ensure your horse will be getting what he needs alongside his forage and grazing.
Looking 'conditioned' is not just about being well muscled and of appropriate body condition – the appearance of hooves, coat and skin also add to the overall appearance of looking 'well'. For coat and skin condition, extra added oil can be beneficial especially in the form of those that contain Omega-3 essential fatty acids such as linseed or hemp oil. Omega-3 is a constituent of cell membranes and is vital for maintaining normal skin structure and function, which is why it can be beneficial to help promote good skin and coat condition.
Extra nutrients and ingredients to look out for horses with poor hooves include biotin, methionine and zinc. Biotin is a B vitamin that research has shown when supplemented at 15mg per day results in improved hoof growth and hardness.  Methionine is an amino acid that is a building block for protein and zinc, a trace mineral often lacking in UK pasture – both of these nutrients are important constituents of hoof horn.  High levels of these nutrients can be found in both Dengie Healthy Hooves and Dengie Healthy Hooves Molasses Free – low sugar and starch fibre feeds that are specially formulated to encourage healthy hoof growth. Because they are complete feeds, when fed at the recommended quantities they will also provide your horse with all the vitamins and minerals he needs.
Month 4
Feeding for Healthy Hooves
There's nothing more frustrating than having to interrupt your training regime when poor quality hooves result in lost shoes – unfortunately something for which Thoroughbreds have a bit of a reputation. This could be due to a number of factors, including poor conformation and nutrition.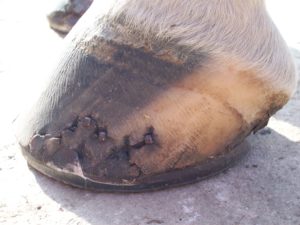 It's all about balance
Key nutrients for improving hoof quality include biotin, calcium, methionine and zinc. It is important to ensure that your horse's ration is balanced before adding specific nutrients for hooves, as this may be sufficient to improve hoof quality. However, if you are already feeding the recommended levels of a good quality feed or supplement, adding a specific "hoof" product may be beneficial.
Why are certain nutrients important?
Biotin is a sulphur-containing B vitamin that is essential for cell proliferation and is the most commonly identified nutrient for improving hoof quality. B vitamins are synthesized by micro-organisms in the digestive tract as a by-product of fibre fermentation. If the digestive system is healthy and fed plenty of fibre, it is thought that sufficient biotin is produced to keep most horses' hooves healthy. If the supply of fibre is compromised, as with most racehorse diets, or the environment of the gut is not conducive to allow bacteria to function efficiently, then the production of B vitamins, including biotin, may be repressed. Supplementing 15mg of biotin daily is recommended to promote improved hoof horn growth and quality – this is the amount that Dengie Healthy Hooves or Dengie Healthy Hooves Molasses Free will provide a 500kg horse per day.
Zinc is a trace mineral well known for its importance in the integrity of keratin, which is found in hair, skin and hooves. Low levels of zinc result in soft, brittle hooves. Look out for feeds and supplements that contain a proportion of chelated zinc, as chelating – where the mineral is attached to a protein or a sugar molecule – makes the nutrient easier to absorb in the digestive tract and less vulnerable to interactions with other nutrients.
Calcium is important for hoof quality as it is involved in creating sulphur cross links between hoof proteins and is also important in the cohesion of cells. Researchers at the Royal (Dick) Veterinary School investigating the cause of brittle hooves identified two types of defect. The first was remedied with the addition of biotin, but the second did not improve until calcium was added as well. The horses that improved with the addition of calcium were found to have diets that were relatively high in phosphorus. Calcium is linked very closely with phosphorous and the ratio of these two minerals in the diet is crucial, so adding calcium is likely to have established the right balance. This highlights the importance of a generally balanced diet rather than focusing on specific nutrients in isolation.
Give it time
Whatever methods you employ to try and improve your horse's hoof quality, give it time to work. It takes six to nine months for a horse's hooves to grow down and so it may be some time before you notice a difference in hoof quality.