A typical day in Lockdown
---
The ponies have been back in work since the beginning of December after their break out in the field. For the first few weeks they were just hacking out, gradually building up the distance and the trot work. Then from the beginning of January I started to introduce some light schooling sessions a few times a week and then a little bit of pole work and jumping. Both ponies are now quite fit and will be more than ready for the event season when it does get started!
As sadly there have been no competitions, I thought I would tell you how I have been spending lockdown #3, fitting in doing the ponies with online school lessons and what a typical day looks like for me.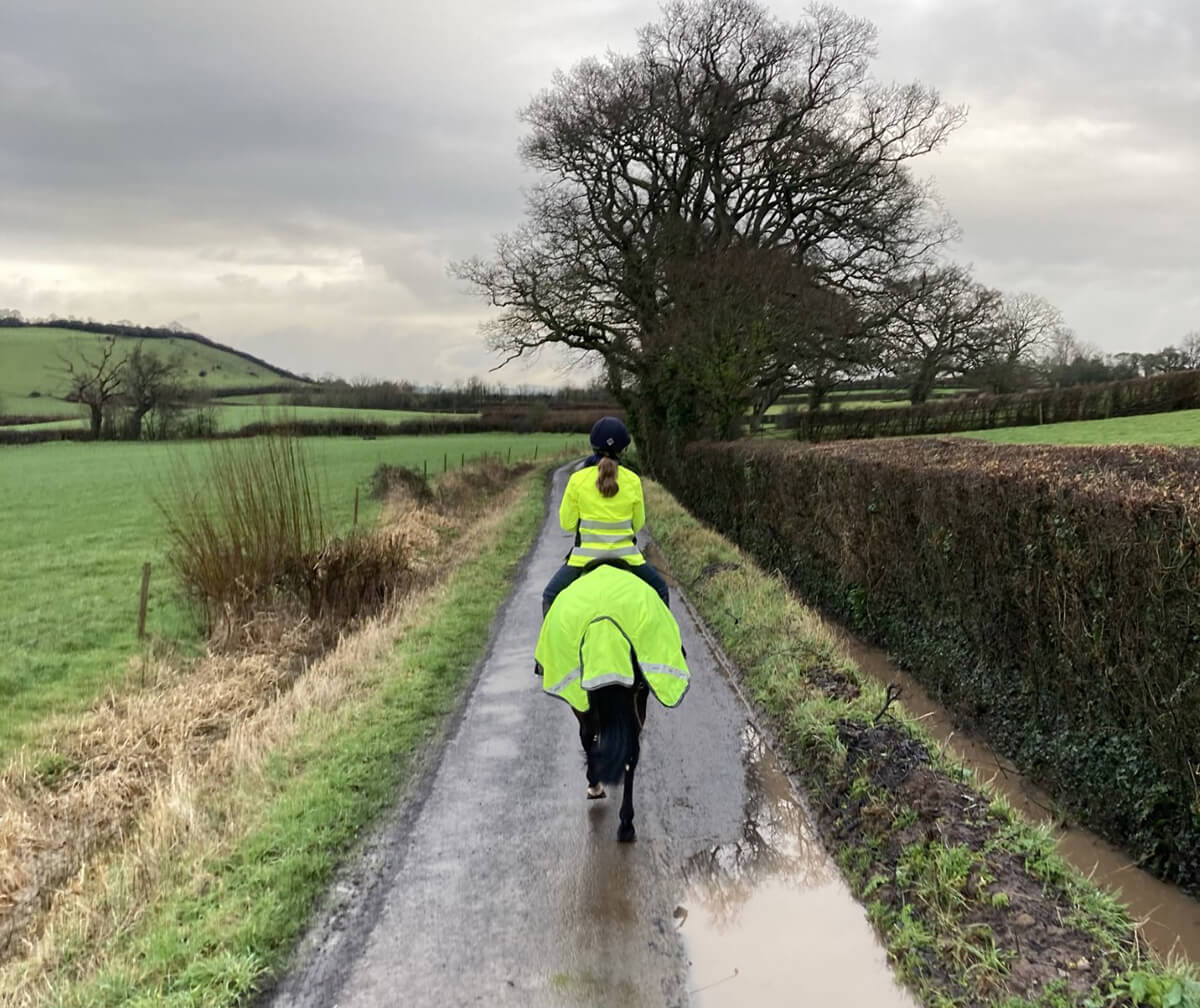 My alarm goes off at 6.15am and I am usually out on the yard by 6.30am. I'm very lucky that I am able to keep my ponies at home – they are literally outside the back door!! The first job is to do feeds, there are 8 feeds to make-up in total – my 2 ponies, my mums 2 horses, a broodmare and 3 youngsters. They are all fed Dengie diets. Annie, the broodmare, and the 3 youngsters have Alfa-A Original, Alfa-Beet and a balancer. The 2 good-doers on the yard, Bracken and Jonny, have Dengie Hi Fi Molasses Free with a balancer. Smartie tends to drop weight quite easily so he is fed Dengie Alfa-A Molasses Free with Alfa-Beet and a balancer, and Cougar, our oldest horse at 23 years, loves Dengie Performance Fibre with Alfa-Beet and a balancer. They also all have some salt added to their feeds, the horses get 1 tablespoon per day and the ponies get 1 dessert spoon per day.
Once they have all had their breakfasts, they get a small haynet of haylage whilst they are mucked out. My mum and I share the mucking out between us and then when it's done we go for a run with our dog.
After running I have my breakfast and then get ready to start online lessons at 8.45am. My mum then goes back out to the yard and gives the horses their morning haynets and turns out some of the horses. During the winter the youngsters stay in a big barn and the other horses and ponies get turned out for a few hours each day either in the morning or afternoon depending on when they are going to be ridden. I then usually try and ride one of the ponies at lunchtime, either a schooling sessions or a 45 minute hack. At lunchtime I also skip out and do lunch haynets before having my lunch ready to start afternoon lessons.
My school day finishes at 3.20pm and I then ride the other pony that didn't get ridden at lunchtime. We then do evening feeds between 5.30 and 6pm before mucking out and topping up hay. Most of them get ad-lib hay except for Bracken and Jonny who have to have theirs rationed and soaked to reduce the sugar levels! The others all have steamed hay. I like to give the yard a good sweep and tidy-up before I finish so I'm usually back inside by 7pm. My mum will then go back out later before she goes to bed to do late checks and top them all up with more hay.
Recently we have had some really cold freezing weather so we have also been offering the horses warm water several times a day to make sure they don't get dehydrated. Some of them really love it, especially the youngsters who get very excited when they see the yellow water bucket. For the ones who are less keen we put an apple in the water to encourage them to play with the water. Adding salt to their feeds also encourages them to drink.
I am now very much looking forward to some dry and warmer weather, so that the ponies and horses can all go out more. I am also very excited for the start of Eventing!! Hopefully next time I blog I will have some events to report on and things will be starting to get back to normal.