Conditioning Fibre Feeds: Explained
---
Article last updated: 30th October 2020
Some horses do not maintain their body weight easily and it can prove a real challenge to keep them at the perfect weight. Ideally, your horse's ribs shouldn't be visible, but they should be easily felt if you run your hand along their side.
The top line of your horse follows their silhouette, from their neck, down their shoulders, back and behind. A well-defined top line depends on a proper amount of work and the type of diet supplied, as this will depend on quality protein to build the muscle. Alfalfa provides the quality protein essential for improving top line, muscle condition and repair and is also a quality conditioning fibre for horses. Naturally low in sugar and starch, independent research has also shown that alfalfa is a natural buffer to acidity in the digestive tract. Our guide looks to explain the benefits of all the Dengie conditioning fibre feeds.
Alfa-A Oil – The Ultimate Conditioning Feed For Horses To Gain Weight
Dengie's highest calorie fibre feed based on alfalfa and rapeseed oil provides 12.5MJ/kg of Digestible Energy – a comparable energy level to a stud or conditioning mix. Displaying the BETA Feed Mark for Equines Prone to equine gastric ulcer syndrome, it is low in starch and sympathetic to the digestive system, providing slow- release energy for horses in hard work or those that need to gain weight without the fizz.
Supplying good quality protein and no added sugar, Alfa-A Oil conditioning fibre feed aids weight gain without the fizz as it supplies slow-release energy. Alfa-A Oil has a high oil content, perfect for show ring condition, healthy skin and coat shine. Free from molasses, preservatives, cereal grains and GM ingredients.
Alfa-A Molasses Free – added herbs to tempt the fussiest of horses
Alfa-A Molasses Free is naturally low in sugar and starch at 4.5% and 2% respectively but is packed full of tasty extras such as real mint, fenugreek and alfalfa pellets and so this conditioning fibre feed will tempt the fussiest of horses.
Alfa-A Molasses Free is suitable for horses that require a low level of sugar and starch in their diet, such as those prone to laminitis, but that are working or need help to gain weight.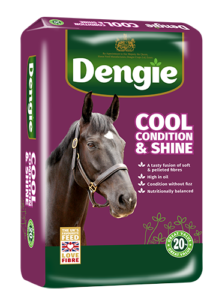 Cool, Condition & Shine is a nutritionally balanced, high-fibre fusion of soft, chopped and pelleted fibre with a high oil content and a light molasses coating. It contains a blend of grass and soft straw with added grass and alfalfa pellets for interest. With a spearmint oil and a light molasses coating it will tempt the fussiest of feeders.
When fed at the recommended rate, Cool, Condition & Shine provides a broad sprectrum of vitamins and minerals for a horse or pony working up to moderate levels, without the additional mix, cubes or supplements.
Alfa-Beet – Conditioning Feed For Horses That Aids Hydration
During the winter some horses may drink less and dehydration has been associated with an increased risk of impaction colic. Adding Alfa-Beet to the ration provides an additional method to help keep your horse hydrated. The combination of alfalfa and unmolassed sugar beet pulp provides 'slow-release' energy in the form of a highly digestible conditioning fibre, making it ideal for weight gain without over-exuberance. It's quick and easy to soak – either 15min hot soak or 2-hour cold soak.
Alfa Beet is an ideal conditioning fibre feed for older horses who are struggling to chew, or horses of any age that are experiencing poor dentition, such as those with diastemas.
Healthy Tummy – Nutritionally Balanced Conditioning Fibre For Horses
This is a nutritionally balanced fibre feed based on alfalfa with high specification ingredients to promote gut health. Healthy Tummy contains ADM Protexin In-Feed Formula which supplies prebiotics and yeast to maintain gut health. A high specification of vitamins and minerals, including B vitamins, plus additional magnesium and calcium are included. A tasty herbal blend aids palatability whilst a light rapeseed oil coating has been included for slow-release energy and coat shine.
When fed at the recommended rate, Healthy Tummy is an ideal conditioning feed for horses in medium work as it provides all the vitamins and minerals your horse or pony needs, without additional mix, cubes or supplements.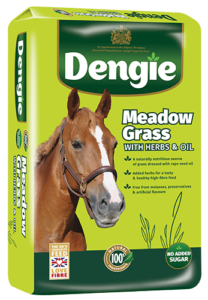 Meadow Grass Range – Conditioning Fibre Feed Without Alfalfa
Made from Lincolnshire's finest meadow grasses and oil grown by UK farmers, Dengie Meadow Grass Range can replace your horse's hay or forage as a conditioning feed for horses looking to gain weight or maintain condition. Meadow Grass with Herbs can partially replace hay and can be fed up to 1kg per 100kg of bodyweight provided no other high oil feeds are used. Dengie Pure Grass and Pure Grass Pellets can totally replace the forage ration.
Feeding Fibre For Condition Latest Advice:
Feed your horse little and often: choose conditioning feeds high in fibre and non-heating.
Ensure hay or haylage is of good quality – sweet-smelling, free from dust or mould spores.
Try to allow your horse ad-lib access to a forage source such as hay, haylage or a Dengie forage replacer especially when stabled.
Feed your horse a yeast culture to encourage efficient fibre digestion in the hind gut.
Make sure vitamin and mineral requirements are being met. If necessary, top up with a broad-spectrum supplement or a balancer.
If you would like the Dengie nutrition team to review your horse or pony's diet to review their specific needs and to ensure they are receiving suitable conditioning fibre feeds, get in touch with the team here at Dengie. Call our feed line, today!